Personal Information
Gender:
Female
Born:
1936 (ages 37-42)
Occupation/
Career:
Sales clerk, clothes boutique/Buyer
Character
description:
Willona is a close family friend and neighbor to the Evans family who's always up on the gossip of others who live in the project building
Spouse(s):
Ray Harrington (1956-1974; divorced)
Related to:
Millicent "Penny" Gordon Woods (Adoptive daughter) Elijah Ray Sanders New Friend
Character information
Appeared on:
Good Times
Episodes appeared in:
All in series (133 episodes)
Character played by:
Ja'Net DuBois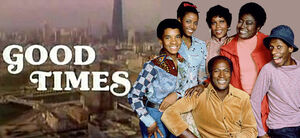 Willona Woods is one of the main characters and the main character in season 5 in Good Times. The part of Willona was played by the late Ja'Net DuBois.
Willona is a close family friend and neighbor to the Evans family. She is the adoptive mother of Penny Gordon Woods. Independent, generous, and always up for fun, Willona can also be nosy at times and a little gossipy. But as Florida's best friend, Willona is always there with a helping hand in good and bad times. A divorcee sporting fashionable clothes and slinging unabashed advice, Willona juggles a variety of jobs while maintaining an active single life. When an unexpected child enters her life, Willona doesn't hesitate to bring her into her home and treat her as her own flesh and blood. As an honorary member of the Evans household, Willona is the steady tower of strength that everyone can rely on.
Community content is available under
CC-BY-SA
unless otherwise noted.