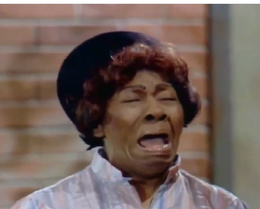 Wanda, as played by Helen Martin
Personal Information
Gender:
Female
Character
description:
Likes showing and crying at funeral parlors for people she did or didn't know; gets helped out financially by a rent party thrown The Evanses and some of the other tenants, which prevents her from being evicted
Character information
Appeared on:
Good Times
Episodes appeared in:
7 in series, Seasons 1-6
Character played by:
Helen Martin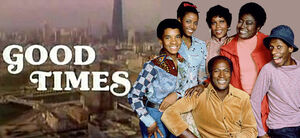 Wanda, a neighbor and friend of the Evanses and Willona, appears in seven episodes of Good Times, beginning with the episode titled Florida Flips in Season 1. The part of Wanda is played on the series by veteran actress Helen Martin.
About "Weeping" Wanda
[
]
Another resident in the apartment building where the Evans reside, Wanda, who's a close friend of Florida and Willona, always keeps up on gossip about the goings on of others and other occurrences around the building.
In the final episode of Season 3 titled "The Rent Party", she appears at a women's support group, as Florida and James and some of the other tenants in the building, when learning of her being in dire financial straits and facing eviction from her apartment, rallying around her by throwing her a rent party in her honor, to raise money to help her out in paying her back rent. Later episodes show her appearing and crying at several funerals, as at the "funeral" of a neighborhood wino named Fishbone (as played by Robert Guillaume) in the Season 4 episode titled "Requiem for a Wino" whether she knew the person or not, thus earning her the nickname "Weeping Wanda" from J.J. and Willona.