Jurassic World: Dominion Dominates Fandom Wikis - The Loop
Play Sound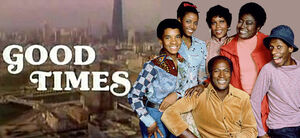 Thelma Evans aka Thelma Evans Anderson (born on June 18, 1957, in Chicago, Illinois) is the daughter of James Evans and his wife Florida Evans in the CBS-TV series Good Times. The part of Thelma is played on the series by Bern Nadette Stanis.
About Thelma
[
]
Thelma is the middle child and only daughter of Florida and James Evans, Sr. She grew up on the Southwest Side of Chicago in a cold water flat housing hi-rise project building with her parents and older brother, J.J.. When her mother was pregnant with her younger brother Michael, the family moved to the North Side of Chicago in The Housing Projects. As Thelma became a teenager, she became interested in acting, dancing, and boys. Her favorite actor was Billy Dee Williams and her favorite musicians were Isaac Hayes, Stevie Wonder, and Marvin Gaye. Thelma had several boyfriends and even fiancés.
Thelma is not afraid to stand up to her older brother J.J. and any other person who tries to take advantage of her. She's a "Daddy's Girl", and her father can be overprotective from time to time, but that doesn't stop Thelma from dating and even getting engaged a few times. Like the rest of her family, she also dreams of moving out of her housing project, but until the day that dream is realized, Thelma does her best to be as much help as she can to her mother and around the house. Her constant fighting with J.J. is too much for her parents to deal with at times, but their love for each other is deep. With her family behind her, Thelma is reassured that she will survive growing up in the ghetto.
Thelma met, fell in love, and married former standout collegiate football star Keith Anderson in 1978 at the beginning of Season 5, a college athlete who had a bright future, in being the top draft choice of the NFL's Chicago Bears, but at their wedding, Keith tripped over J.J. who was taking wedding day pictures, breaking his leg. This event led to Keith developing a drinking problem. By series' end, in the final episode, Thelma and Keith were moving into a new apartment near Lake Michigan after Keith completely recovered from his injury and had finally got his multi-year contract to play football for the Chicago Bears. Thelma also learns she's pregnant with their first child and asks Florida to live with them to help with the baby. 
Trivia

[

]
Bern Nadette who portrayed Thelma Evans was actually 20 years old when the show premiered during 1974-75, and was 25 years old when the show ended at the end of the 1978-79 season.