Personal Information
Gender:
Male
Born:
September 16, 1917
Birthplace:
Brooklyn, New York, U.S.
Died
October 1988 (age 71)
Deathplace:
Los Angeles, California, U.S.
Career information
Occupation/
Career:
TV screenwriter/producer
Years active:
1955-1985
Series involved with:
Good Times
Job on series
Produced 24 episodes, Seasons 4-6
Writer of 9 episodes in Seasons 4-6
Script supervisor/edutor, executive script consultant, 72 episodes, Seasons 3-6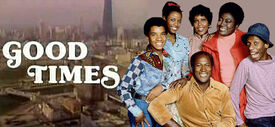 Sid Dorfman (born September 16, 1917-died October 1988) wrote six episodes of the CBS-TV series Good Times , beginning with "J.J. and the Older Woman" in Season 4 and concluding with "The Traveling Christmas" in Season 5. Sid also produced 24 episodes in Sesons 5 and 6, beginning with "Florida's Homecoming: Part 1", concluding with "The Evans' Dilemma" in Season 6.
He also served as a script supervisor, editor and ececutive script consultant for 72 episodes of the series beginning with the opening episode of Season 3 "The Big Move: Part 1".
Sidney was best known for his work on The George Burns and Gracie Allen Show, M*A*S*H, The Rubber Gun Squad and Crazy Like a Fox. He died at his home in West Hollywood, CA in 1988.
External links
Edit