Roscoe Lee Browne appears as televangelist :Reverend Sam" in the Season 2 "Good Times" episode "God's Business is Good Business".
Personal Information
Gender:
Male
Born:
May 2, 1925
Birthplace:
Woodbury, New Jersey, U.S.
Died
April 11, 2007
(aged 81)
Deathplace:
Los Angeles, California, U.S.
Career/Family Information
Occupation/
Career:
Actor and stage director
Years active:
1960-2007
Character information
Appeared on:
Good Times
Character played:
Reverend Sam in "God's Business is Good Business" in Season 2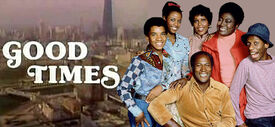 Roscoe Lee Browne (May 2, 1925 - April 11, 2007) was a veteran actor/voice artist and director who is known for his rich voice and dignified bearing. He voiced Francis n the 1988 Disney animated film, Oliver & Company, and Mr. Arrow in th 2002 Disney animated film, Treasure Planet. He makes a guest appearance on Good Times in Season 1 as Reverend Sam, an old US Army buddy of James Evans, who's a shady televangelist in the episode "God's Business is Good Business".
Biography
[
]
Browne was the fourth son of a Baptist minister, Sylvanus S. Browne, and his wife Lovie (née Lovie Lee Usher). Born in Woodbury, New Jersey, Browne first attended historically black Lincoln University in Pennsylvania, where he became a member of Omega Psi Phi fraternity and graduated with a bachelor's degree in 1946. He undertook postgraduate work at Middlebury College in Vermont, Columbia University in New York City, and at the University of Florence in Italy.
Also an outstanding middle-distance runner, Browne won the Amateur Athletic Union 1,000-yard national indoor championship in 1949. He occasionally returned to Lincoln University between 1946 to 1952 to instruct classes in comparative literature, French, and English. Upon leaving academia he earned a living for several years selling wine for Schenley Import Corporation. Despite his limited amateur acting experience, in 1956 he stunned guests at a party – among them opera singer Leontyne Price – when he announced his intention to quit his secure job with Schenley to become a full-time professional actor.
Acting career
[
]
Despite the apprehensions of his friends, Browne managed to land the roles of soothsayer and Pindarus in Julius Caesar, directed by Joseph Papp for New York City's first Shakespeare Festival Theater. More work with the Shakespeare Festival Theater followed, and in 1961 he voiced a part as an off-screen camera operator, J. J. Burden, in The Connection (1961), his first movie role. Despite lacking extensive experience numerous film roles established his reputation as an exceptionally versatile character actor who was also capable of performing scene-stealing cameos. Science ficiton fans know Browne as the voice of the evil robot Box in the 1974 movie Logan's Run.
Endowed with a resonant, baritone voice and able to project cynicism and a haughty, patrician tone cultivated over the years from reciting lines from Shakespeare, Browne was much in demand for narration and voice-over parts in film and on vinyl albums, audio tapes and CDs. During 1968-69 he was heard as a late-night DJ on WNEW-FM in New York reciting poetry, passages from the Bilble, and assorted literary works. In 1968, he recorded "Music and Gibran", which consisted of English interpretations of Khalil Gibran's poetry, mixed over Middle Eastern background music performed by John Berberian (oud), Souren Baronian (clarinet and baritone saxophone), and Robert Marashlian, among others.
Browne was determined not to accept stereotyped and demeaning roles that had routinely been offered to African-American actors, and he resisted emulating others. Browne also desired to do more than act and narrate, and in 1966 he wrote and made his directorial stage debut with A Hand Is On The Gate starring Cicely Tyson, James Earl Jones, Moses Gunn, and other rising black talent.
A lifelong bachelor who coveted his privacy, in the turbulent decades of the civil rights revolution Browne avoided participation in public protests preferring instead to be "more effective on stage with metaphor...than in the streets with an editorial".[1]
Acting career
[
]
Roscoe's theatrical work brought him to the attention of producer Lelend Heyward, and in 1964 he began a regular stint as a cast member on Hayward's satirical NBC-TV series That Was The Week That Was. Starting in the late 1960s, Browne increasingly became a guest star on TV on both comedy and dramatic shows like Mannix, All In The Family, Good Times, Sanford and Son, The Cosby Show, A Different World, and dozens of other shows. He also was a regular on Soap, where he played Saunders, the erudite butler from 1979–81, replacing Robert Guillaume, who went on to his own show, the Soap spinoff series Benson. (Browne later guest-starred on Benson with Guillaume.) His appearances on The Cosby Show, including a memorable episode in which he recited Shakespeare with fellow guest sta Christopher Plummer, also drew acclaim as well winning an Emmy Award in 1986 for his guest role as Professor Foster. He and fellow actor Anthony Zerbe toured the United States with their poetry performance piece, Behind the Broken Words, which included readings of poetry, some of it written by Browne, as well as performances of comedy and dramatic works. 
Browne's most notable movie role may have been in The Cowboys where, as a camp cook, he leads a group of young cowhands avenging the death of film star John Wayne's character in the movie. This 1972 role was particularly notable as one of the earliest portrayals in American cinema of a 19th-century black cowboy as an equal.
Browne found additional success performing in August Wilson plays, both on Broadway and the Pittsburgh Public Theater. He was described as having "a baritone voice like a sable coat," speaking the King's English with a strong mid-Atlantic accent. To someone who once said Browne sounded "too white", he replied, "I'm sorry, I once had a white maid."[2] Four years before his death, Browne narrated a series of WPA slave narratives in the HBO film Unchained Memories in 2003.[3]
Roscoe died of stomach cancer n Los Angeles, CA on April 11, 2007 at the age of 81. He was cremated. He was remembered for his contributions in a New York Times encomium by Frank Crohn, President of The Edna St. Vincent Millay Society:
We mourn the loss of our long-time Trustee and faithful friend. He was always to be counted upon to be supportive of the aims and purposes of the Society. He filled our lives with the soft sound of poetry as only he could recite it. Now the stage is empty and the lights are low.
References
[
]
External links
[
]