Personal Information
Gender:
Male
Born:
December 30, 1923
Birthplace:
Brooklyn, NY, U.S.
Died
March 25, 2009[1]
(aged 85)
Deathplace:
Los Angeles, California, U.S.
Career information
Occupation/
Career:
Screenwriter
Years active:
1961-1980
Series involved with:
Good Times
Job on series
Writer, "God's Business is Good Business" (Season 1)
Writer, story "Thelma's Young Man" (Season 1)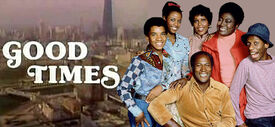 Roland Wolpert (born December 30, 1923-died March 25, 2009) wrote the episode of Good Times titled "God's Business is Good Business"; he also wrote the original story for the Season 1 episode "Thelma's Young Man".
Career
[
]
A native of Brooklyn, New York, he was a graduate of City College of New York. After serving in the army in WWII as a Correspondent-Writer in Europe, he studied playwriting at the American Theater Wing in New York City. In 1961, he moved to Los Angeles with his family, where he began writing episodes for many TV shows, including Naked City, The Bold Ones, Streets of San Francisco, Emergency!, Love American Style, Bewitched and Gilligan's Island. [2]
Death
[
]
Roland died at his home in Los Angeles. He was survived by his wife of 59 years, Ruth, two sons Russell and Stuart, two granddaughters, and a brother, Stanley.
References
[
]
External links
[
]