Jurassic World: Dominion Dominates Fandom Wikis - The Loop
Play Sound

Calvin Lockhart as Cousin Raymond
Personal Information
Gender:
Male
Occupation/
Career:
Professional gambler
Character
description:
Lavishes everyone with expensive gifts upon his visit, most notably, Florida, whom he offers $10,000 and the keys and lease to a luxury apartment, until he loses all he had on his latest racing bet
Related to:
Florida Evans (cousin)
J.J. Evans (2nd cousin)
Thelma Evans (2nd cousin)
Michael Evans (2nd cousin)
Keith Anderson (2nd cousin in-law)
Character information
Appeared on:
Good Times
Episodes appeared in:
"Cousin Raymond" (Season 6)
Character played by:
Calvin Lockhart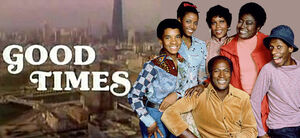 Cousin Raymond Brown, a cousin of Florida's, appears in the Season 5 episode of Good Times titled "Cousin Raymond". The part of Cousin Raymond is played by Calvin Lockhart.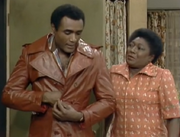 About Raymond
[
]
When Florida's Cousin Raymond drops by the Evans' apartment, he comes by in style, as he has a limo waiting outside, and has three lovely singing cablegram messengers introduce him in song, dedicated to his favorite cousin, whom he always used to call "Pookie-Pooh"!
Raymond really has it in mind to spread some good cheer, as he has gifts for everyone: he gives J.J. a book about the "Great Painters of the World", Thelma, he gives her a lovely new red dress, to Michael, he gives an expensive new gold watch, which calculates equations, and to Keith he gives an expensive new alligator skin wallet! Raymond seems to have a lot of money to spend, and is willing to shower everybody with presents in celebration of his recent windfall, ss Florida and the others seem to wonder how he came into it, as they still appreciate the gifts, as they think, as he gave the impression that he was in the investment business.
Even Bookman was impressed with the dapperly dressed Raymond, as he comes up to the apartment to tell him that his limo waiting outside is double parked! The most lavish present is offered to Florida a new, luxurious apartment in the suburbs for the family, as he then invites Willona, whom he's immediately taken with and the family and Penny all out to dinner.
While they are about to dine, Raymond gets a phone call, seems that one of his "investments", a horse which he bet on, had won its' race, which netted him another windfall in what he calls what he's been having, "a lucky streak", as he plans to bet the latest windfall on another horse, which could net him $20,000!
When Florida, who overhears him talking to his bookie on the phone, learns that Raymond's wealth has come from gambling, she wants no part of his generosity, as she asks him "Is this you're investment business?", as she tells him that she's heard of those professional gambler types and the quick financial changes they can have: "Big diamond rings, one day, then the pawn shop tomorrow!", as he tries to assure her, "Not me, Pookie! When I play the horses, I win!"
When he then offers Florida $10,000 in the form of a cashier's check to go with the lease and keys to the apartment, she then briefly contemplates accepting the gifts, until he returns the next day, saying that he lost all that he invested in his latest hunch, $80,000, as she has the cashier's check and the keys and apartment lease waiting for him, as he leaves, promising to return with more gifts, this time, once again, a winner!