Paulene Myers appeared as Lena Anderson, Grandpa Henry's fiancee, then wife in two episodes of "Good Times". She is shown here in the court scene from the film "My Cousin Vinny" in 1992.
Personal Information
Gender:
Female
Nationality
American
Born:
November 9, 1913
Birthplace:
Ocilla, Georgia U.S.
Died
December 8, 1996
(aged 83)
Deathplace:
Chester, Pennsylvania, U.S.
Career/Family Information
Occupation/
Career:
Actress
Character information
Appeared on:
Good Times
Character played:
Lena Anderson-Evans in "Grandpa's Visit" (Season 5) and "Something Old, Something New" (Season 5)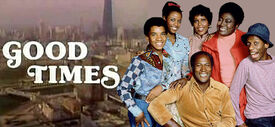 Paulene Myers (November 9, 1913-December 8, 1996) appeared as Lena Anderson, new fiancee, then wife of Grandpa Henry Evans in two episodes of Good Times, first the Season 4 episode titled "Grandpa's Visit", then the episode titled "Something Old, Something New" in Season 5. Paulene was a revered veteran black female character actress and a pioneer amongst African-American actors, who performed on Broadway stage and appeared on many television series throughout her long career, which spanned over six decades.
Born in Ocilla, GA. Myers was the daughter of the late Zachariah Myers and Annie Bembow Myers, her family relocated to East Orange, New Jersey when she was a child. She studied acting at the New York Theatre School and the Actors Studio West in Beverly Hills, California.
Myers made her Broadway debut in "Growin' Pains" with in 1933. She was also featured in Broadway and national companies of such major productions as "A Member of the Wedding", "Anna Lucasta" and "The Blacks."
Amongst the many roles she played, some of her most notable roles were Mrs. Ward on the NBC-TV daytime soap opera "Days of Our Lives", and Judge Pittman, the star of a TV special, "I'll See You in Court;" Judge Morrisey from the ABC-TV soap General Hospital, and her appearance as Judge Mackenzie in the AITF "Archie's Civil Rights"episode, and Grandma Jane on the CBS-TV variety/comedy series The Tony Orlando & Dawn Show. Myers also appeared on the CBS-TV sitcom series All in the Family, as well as roles on Sanford and Son, The Cosby Show, The Jeffersons and Gunsmoke.
Myers was nominated for an NAACP Image Award for best actress for the 1972 feature film, Lady Sings the Blues, which starred Diana Ross and Billy Dee Williams, also in which she played the madam who hired Billie Holiday. Myers was a member of the American Federation of Television and Radio Association (AFTRA), Actors Equity Association and the Screen Actors Guild (SAG).
Myers, who, for 35 years, lived in both Southern California where she resided for 23 of those years, and then in New York City, eventually settled in Chester, Pennsylvania, and died there, having lived there for the final two years of her life. She was interred and is buried in Chester Rural Cemetery.
Community content is available under
CC-BY-SA
unless otherwise noted.