Michael S. Baser

Personal Information
Gender:
Male
Birthplace:
New York City, New York, U.S.
Career information
Occupation/
Career:
Screenwriter/Producer
Years active:
1977-present
Series involved with:
Good Times
Job on series
Writer, incl. teleplay/story, 13 episodes, Seasons 4 & 5
Story editor, 24 episodes in Season 5, all with Kim Weiskopf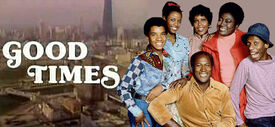 Michael S. Baser (born April 2, 1952) a television writer and producer, whose credits as a writer/producer/showrunner included Three's Company, Married... with Children, One Day at a Time, The Jeffersons and Good Times for which he had a hand in writing 11 episodes, and also served as story editor for 24 more episode in Season 5, all of his work on Good Times with the late Kim Weiskopf, his longtime creative partner, which he often collaborated with. He is currently Head of Writing for Film & Television at Vancouver Film School. [1]
References
Edit
External links
Edit