Marilyn Coleman
Personal Information
Gender:
Female
Birth name:
Marilyn Joyce Bonaparte
Born:
Birthplace:
Philadelphia, PA, U.S.
Career/Family Information
Occupation/
Career:
Actress, Singer
Years active:
1960-1995
Character information
Appeared on:
Good Times
Character played:
Violet Bookman in 2 episodes in Season 5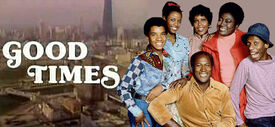 Marilyn Coleman born March 23, 1934 played the part of Violet Bookman, the wife of Nathan Bookman, in two episodes of Good Times, the Season 5 episodes "Bye, Bye, Bookman" and "Willona, the Other Woman". She was an actress, known for Menace II Society (1993), The Meteor Man (1993) and Looking for Mr. Goodbar (1977).
Life and career
Edit
Born Marilyn Joyce Bonaparte in Philadelphia, PA, young Marilyn began performing as a singer at a very young age as she then began studying acting as a teen under acting coach Andre Gregory at the Theater of the Living Arts in Philadelphia. By the early 1960's had relocated to New York City and began appearing in such Broadway stage productions as "Ain't Supposed To Die a Natural Death", "What The Wine Sellers Buy", "Don't Get God Started", and "Male Bone".
By the late 1960's, Marilyn decided to try her luck in Hollywood, relocating there, and then began getting roles on film and TV, appearing in such films as Up The Sandbox (1972), Looking For Mr. Goodbar, Invasion of the Love Drones and the blockbuster Richard Pryor comedy Which Way is Up? (1977) as well as well as the Rudy Ray "Dolemite" Moore blaxploitation/comedy flick Disco Godfather, (1979) and the Keenan Ivory Wayans blaxploitation spoof comedy I'm Gonna Get You Sucka (1989).
Her TV show appearances include Good Times, Lou Grant, The Love Boat, Family, The White Shadow and Amen. [1]
Personal & Family life
Edit
Marilyn was formerly married to jazz percussionist Fred Allen; they have a daughter, Marci Allen-Koutsialis. After their divorce, she married jazz singer Fred Coleman. They had two children son Kevin and Dana Coleman-Baylor. Her second husband, Fred Coleman, died in 1995.
References
Edit
External links
Edit
Marilyn Coleman at the Internet Movie Database
Cite error: <ref> tags exist, but no <references/> tag was found