Lenela Gordon, Penny's mother, in "A Matter of Mothers" in Season 6.
Personal Information
Gender:
Female
Occupation/
Career:
????
Character
description:
Abusive mom, whom, as it turns out, was abused herself as a girl
Tries to discredit adoptive mother Willona's parenting of Penny, only to acquiesce when her tendency to be abusive rears its head, as she again almost strikes her
Character information
Appeared on:
Good Times
Episodes appeared in:
5 in Seasons 5 and 6
Character played by:
Chip Fields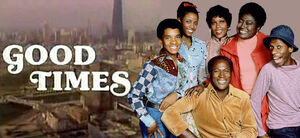 Lenela Gordon, who's the biological mother of Penny Woods, who Willona Woods winds up adopting, appears in four episodes of Good Times; "The Evans Get Involved: Part 1", "Part 2", "Part 3", and "Part 4" in Season 5 and "A Matter of Mothers" in Season 6. The part of Lenela is portrayed by Chip Fields, who also appeared as Rochelle in the Season 4 episode "J.J.'s New Career: Part 2", which was her first series guest appearance.
About Lenela
Edit
Lenela was 16 years old when she was pregnant, and the father left before Penny was born. Penny's biological mother was abusive to her, she would often have many bandages to cover her wounds. One day, Penny tried to get on the bus with no money, J.J. saw this and convinced everyone to donate, including the bus driver. She came to the Evans' apartment in search for J.J. and didn't want to leave. She gradually falls in love with J.J. telling him she would love to marry him someday.  
Soon after, it was later found out that she was abused by her own mother. Lenela tells the Evans' that she herself was abused, and refuses therapy. She even abandons Penny, believing she deserved better than her. Soon, she became the adopted daughter of their good neighbor friend Willona Woods and Penny lived a better life.  
In Lenela's final appearance in "A Matter of Mothers", where Lenela gets married into wealth. She tries hard to discredit Willona's mothering by staging a party with all types of strange acquaintances of hers in Willona's apartment, and tries to get the police to arrest her, only to have the plan backfire in her face, as the old demons of child abuse rears its ugly head, as she goes to strike Penny and Willona stops her. Penny chooses Willona as her mother, and Lenela is devastated. She leaves and is never seen again.