Huckster Lenny posing as Santa, trying to spread some "Christmas Cheer" hocking his goods in the episode "Penny's Christmas" in Season 4.
Personal Information
Gender:
Male
Character information
Appeared on:
Good Times
Episodes appeared in:
7 in Seasons 4-6
Character played by:
Dap "Sugar" Willie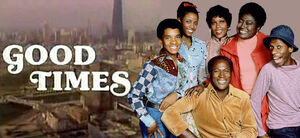 Lenny, also known as Lootin' Lenny, is a recurring character who appears in a total of seven episodes of Good Times, first appearing in the episode "Florida's Night Out" in Season 4. The part of Lenny is played by Dap "Sugar" Willie.
About Lenny
Edit
A huckster type who is always dressed hip in mink coats or fancy suede or leather jackets, with diamonds on his fingers, Lenny has the look of a pimp; he is always seen in various public places such as pool halls, the outside of police stations, department stores, or even employment offices, or the like, trying to hock his "hot" merchandise (presumably stolen), such as gold chains, watches jewelry, but, really all types of goods, even small appliances such as small toasters, egg beaters, and the like; He usually wears long red underwear or other "weird" outfits and approaches people with a laid-back rap and a rhyme ("my name is Len-nay, if I ain't got it, there ain't an-nay"). He is typically rebuffed by the people he approaches and responds by saying "that's cold" or uses a small brush to "brush off" the negativity. Florida and Willona always seem to become one of his intended customers; they always resist his sales pitch!