Jurassic World: Dominion Dominates Fandom Wikis - The Loop
Play Sound

Keith Anderson, as played by Ben Powers
Personal Information
Full name
Keith Anderson
Age:
62
Born:
July 18 (1959)
Birthplace
Chicago, Illinois, U.S.
Occupation/
Career:
Former collegiate football player
Character
description:
Injures his knee on the way down the aisle on his wedding day; struggles for a time over the injury and the loss of his NFL contract, in having to work low-wage jobs like the rest of the family to get by while rehabing to get his knee to heal
Spouse(s):
Thelma Evans-Anderson (1978- present ?)
Related to:
James Evans Sr. (father in-law, deceased when Keith meets Thelma)
Florida Evans (mother in-law)
Michael Evans (brother in-law)
James Evans, Jr. ("J.J.") (brother in-law)
Henry Evans (step-grandfather)
Character information
Appeared on:
Good Times
Episodes appeared in:
24 in Season 6
Character played by:
Ben Powers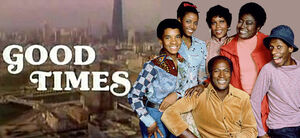 Keith Anderson is a character who appears in the final season, Season 6, of Good Times. Played by the late actor Ben Powers, Keith is a professional football player who meets Thelma, and they fall in love and get married in the 4-part episode "Florida's Homecoming" at the beginning of Season 6.
About Keith and Thelma
[
]
In the season six premiere episode "Florida's Homecoming: Part 1,", Florida returns home to Chicago from Arizona after her second husband, Carl Dixon (Moses Gunn), died after a year-long battle with lung cancer after Thelma calls her and tells her she's getting married to Keith, a former collegiate star running back for the University of Illinois, who was just drafted by the Chicago Bears. At first, Florida asks Thelma if she's pregnant, but she isn't. When Thelma and Keith have a fight and Thelma runs to her bedroom, Florida tells him to stay and wait for them. While they're talking, Thelma comments that Keith sounds just like her father! Thankfully, all misunderstandings are worked out, and Thelma and Keith get married at their church with Michael singing in the final episode of "Florida's Homecoming:Part 4."
Unfortunately, after the wedding ceremony, while Thelma and Keith are walking down the church aisle, J.J. is in the middle of the church aisle taking pictures and Keith trips and falls over J.J., breaking his leg, which ruins his dreams of playing in the NFL, as the Bears' team doctor advised him not to try to play again, saying that if he were to take a big hit on his leg, he would probably never even be able to walk straight again.
With his football career seemingly over, Keith said in the episode "The Evans Dilemma," that all he knew how to do is play football, and he had an athletic scholarship. Keith is forced into taking a low-paying job as a cab driver to get by. During his free time, he runs and works out so he can play football again.
In the episode "The Evans' Dilemma," Keith starts drinking heavily, due to his situation, and the rest of the family notices his strange behavior. J.J. and Michael realize that it happens every time Keith comes out of the bathroom. J.J. and Michael go to the bathroom to investigate, and learn that Keith is hiding a bottle of vodka inside the back of the toilet! J.J. calls it "The Russian Revenge," and they hide the bottle of vodka inside the trunk in Thelma's old bedroom.
Later that night, one of Keith's friends comes to dinner, and his bizarre behavior causes him to slap Thelma! Everyone is shocked, and Thelma goes to her old bedroom and finds the bottle of vodka in the trunk. She confronts Keith and talks to him about his situation. She then tells him to choose between her and the bottle. Keith takes the bottle and smashes it against the bedroom door! Thelma then slaps Keith back so he won't forget!
In the series final episode "The End of the Rainbow," the good fortune the Evans family always dreamed of finally becomes a reality, and even reaches Willona and Keith. J.J. moves in with two female friends and Michael moves into an on-campus college dormitory. Keith learns from another examination from the Chicago Bears' team doctor that his leg is completely healed, and that he can take full contact on it without risking further injury, which means he can play football again, and the team signs him to a multi-year contract. Thelma learns she's pregnant with their first child, and asks Florida to live with them to help them take care of their baby. Keith and Thelma also buy a new duplex condominium in a nearby affluent North Side neighborhood on Baker Street, which is upstairs from Willona, who just bought the first floor condo! Florida and Willona are happy that they're going to remain neighbors, and they hug each other!