Johnny Brown played the part of Mr. Bookman, the building super, on the series.
Personal Information
Born:
June 11, 1937
Birthplace:
St. Petersburg, Florida, U.S.
Career/Family Information
Occupation/
Career:
Actor/singer/Entertainer
Years active:
1966-present
Children:
Sharon Brown (daughter)
Character information
Appeared on:
Good Times in Seasons 2-6
Character played:
Nathan Bookman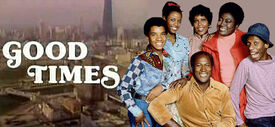 Johnny Brown (born June 11, 1937) is an American actor and singer. He played Nathan Bookman, the building superintendent on Good Times.
Brown is a nightclub and stage performer as well as a comic actor, and a regular cast member of the television series Laugh-in. Brown is mostly remembered for his chubby physique, wide ingratiating smile, mobile facial expressions, and easy pleasant joking style. Brown appeared on other television shows including Flip Wilson Show, The Jeffersons, Family Matters, and Martin. Brown also used to go to school with Walter Dean Myers when he lived in Harlem as a boy.
Brown had earlier established himself in the Broadway musical Golden Boy, starring Sammy Davis, Jr.; his supporting role was in the part of Ronnie and was featured as the lead voice on the show stopping rouser, "Don't Forget 127th Street."
In the early 1970s, Brown starred in a television commercial for the Write Brothers pen, a short-lived product of the Papermate pen company. The commercial consisted of an elaborate musical number, "Write On, Brothers, Write On", led by Brown as a schoolteacher who encourages his chorus line of students to use this pen for their school assignments.
In 1997, Johnny contributed his voice to the introduction of the compilation album Comedy Stew: The Best of Redd Foxx. In the introduction, Brown tells of how Norman Lear had considered Brown to play the role of Lamont in Sanford And Son, but was unavailable to do so because of his prior commitment to Laugh-In, leading Lear to give the role to Demond Wilson instead.
Brown is also the father of actress Sharon Brown, who was born in 1962.
External links
Edit