Jimmie Walker played the part of J.J. Evans on the series.
Personal Information
Gender:
Male
Birth name:
James Carter Walker
Born:
(

1947-06-25

) June 25, 1947
Birthplace:
The Bronx, New York, U.S.
Career/Family Information
Occupation/
Career:
Comedian, Actor, Humorist, and entertainer
Character information
Appeared on:
Good Times
Character played:
J.J. Evans from Season 1-6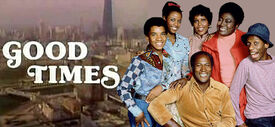 Jimmie Walker (born James Carter Walker on June 25, 1947) played the part of James "J.J." Evans, Jr. on Good Times from 1974-1979. A talented, funny actor, entertainer, humorist and stand-up comedian, over the years since he appeared on Good Times, has appeared in guest spots on numerous other TV shows, including where he appeared as himself on the long-running ABC-TV sitcom series Scrubs.
Bio
Early life
Walker was born in Brooklyn, NY and raised in The Bronx, NY.[1] He attended Theodore Roosevelt High School in New York City. Through a New York State funded program known as SEEK, or "Search for Education, Evaluation, and Knowledge," he continued his studies and entered into the field of radio engineering with WRVR. As a young man, Walker was a vendor at Yankee Stadium, starting with the 1964 World Series. He was given a silver dollar by Mickey Mantle, which he still has.
Jimmie has appeared in many movies and TV programs since his appearance on Good Times, then, and has become a well recognized '70s icon. Walker was nominated for Golden Globe awards Best Supporting Actor In A Television Series in 1975 and 1976 for his role as J.J. While on the show, Walker's character was known for the catchphrase "Dy-no-mite!" which he also used in his mid–1970s TV commercial for a Panasonic line of cassette and 8-track tape players. He also starred as boxer "Bootney Farnsworth" in the Bill Cosby / Sidney Poitier comedy film Let's Do It Again with John Amos, and The Greatest Thing That Almost Happened with James Earl Jones. Walker continues to tour the country with his stand-up comedy routine.
References
External Links