Jimmie Walker played the part of J.J. Evans on the series.
Personal Information
Gender:
Male
Birth name:
James Carter Walker
Born:
June 25, 1947
Birthplace:
The Bronx, New York, U.S.
Career/Family Information
Occupation/
Career:
Comedian, Actor, Humorist, and entertainer
Character information
Appeared on:
Good Times
Character played:
J.J. Evans from Season 1-6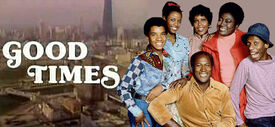 Jimmie Walker (born James Carter Walker on June 25, 1947) played the part of J.J. Evans on Good Times from 1974-1979. A talented, funny actor, entertainer, humorist and stand-up comedian, over the years since he appeared on Good Times, has appeared in guest spots on numerous other TV shows, including where he appeared as himself on the long-running ABC-TV sitcom series Scrubs.
Jimmie has appeared in many movies and TV programs since then, and has become a well recognized '70s icon - and for his quote "Dy-no-mite!"
External Links
Edit