James Evans, as played by John Amos
Personal Information
Age:
40
Born:
May 6, 1932
Birthplace
Cartersville, Mississippi, U.S.
Died
June 1, 1976
Deathplace
Mississppi City, Mississippi, U.S.
Occupation/
Career:
Various, most notably, a dock worker and foundry worker
Character
description:
Hard-working and honest, James can only seem to find poor-paying manual-labor jobs because of his lack of a formal education
Often voices his dissatisfaction with many government policies and red tape due to the difficulty of raising a family by working numerous low-paying manual labor jobs
Spouse(s):
Florida Evans (1952-1976, his death)
Related to:
James Evans, Jr. ("J.J.") (oldest son)
Michael Evans (younger son)
Thelma Evans-Anderson (younger daughter)
Keith Anderson (son in-law)
Henry Evans (father; deceased)
Character information
Appeared on:
Good Times
Episodes appeared in:
61 in seasons 1-3
Character played by:
John Amos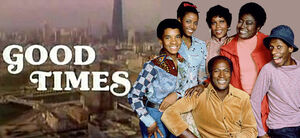 James Evans, Sr. appeared in the first three seasons of Good Times, before the actor who played him, John Amos, decided to leave the top-rated CBS-TV series due to creative, and poor disputes with the show's executive producer, Norman Lear, as to the direction which the series was going in the development of the main characters, particularly that of James's son, J.J., which was played by fellow cast member Jimmie Walker. He appeared in 61 episodes during seasons 1-3 before getting killed in an automobile accident in his home state of Mississippi while trying to find steady work in a plan which would have involved relocating the entire family there.
About James
[
]
James is the patriarch of the Evans family. Despite being a veteran of the Korean War, he is deeply committed to doing whatever it takes to provide for his family. Hard-working and honest, James can only seem to find poor-paying manual-labor jobs because of his lack of a formal education. The difficulties he endures while keeping a roof over his family's head leave him dissatisfied with many government policies. He maintains his dignity and is a pillar of strength, even while struggling to raise his family amid the poverty of the Chicago projects. James is a strict disciplinarian who makes it a priority to teach responsibility and values, and he loves his children more than anything else. Between seeking employment, paying the rent, and keeping food on the table, James manages to find the time to interrogate Thelma's boyfriends, tune in to Michael's political arguments, and keep a close watch on J.J.'s increasingly shady antics.