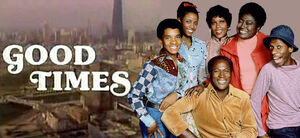 James "J.J." Evans, Jr. is one of the main characters of the series Good Times. He is the oldest son of James and Florida Evans. J.J. is known to be the breakout character in the show.
About the character
Edit
A gifted artist, J.J. dreams of becoming famous and one day taking his family out of poverty. Until that day, J.J.'s responsibilities include doing well in school and looking out for his younger siblings. Unfortunately, he doesn't do too well at either one. With the exception of art class, he's a less-than-average student. He's not much of a help around in the house, and his constant bickering with Thelma keeps his parents refereeing. Instead of being the model son, J.J. is more concerned with using his good looks, sweet talk and clever wit to attract the ladies and outrun the muggers. But no matter what J.J. does, he makes sure that everything is always "Dyn-o-mite!"
Generally, J.J., whom at times has had stretches where he is out of work, is a hard worker, as at first, before he finished high school and shortly thereafter, held a job at a nearby restaurant, The Chicken Shack, until he lost it in the episode "The Investigation" in Season 3, when the FBI had sent an agent Agent Lloyd to investigate as to whom was corresponding with the Cuban government, which turned out to be Michael who was doing it for a school assignment.
By the time of the episode "J.J. and the Boss' Daughter", J.J. has a job (one of several) in an ad agency, a he starts dating a new assistant at work, but does not realize the attractive woman is the daughter of his boss. J.J. starts to brag how he has control of the office and the boss has no idea of what is going on. DEE BUTT BUTT