Jurassic World: Dominion Dominates Fandom Wikis - The Loop
Play Sound

Grandpa Henry, played by Richard Ward
Personal Information
Gender:
Male
Age:
68
Born:
July 3, 1912
Died
June 14, 1980 (aged 68)
Occupation/
Career:
Merchant Marine (shipboard cook). Unknown
Spouse(s):

James' mother

(presumed deceased)
Lena Anderson
Domestic partner(s):
Unnamed ex girlfriends Lena Anderson

James' mother

(ex wife)
Related to:
James Evans Sr. (son deceased), among other unnamed children
Florida Evans (daughter in-law)
J.J. Evans (grandson)
Thelma Evans-Anderson (granddaughter)
Keith Anderson (grandson in-law)
Michael Evans (grandson) unnmaed mother unnamed father unnamed brothers unnamed sisters
Character information
Appeared on:
Good Times
Episodes appeared in:
3 in Seasons 3-5
Character played by:
Richard Ward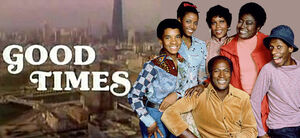 Henry Evans is the father of James, the father-in-law of Florida, and the grandfather of J.J., Thelma, and Michael. He appeared in the episode "The Family Tree", then in "Grandpa's Visit" in Season 4 and "Something Old, Something New" in Season 5. Henry Evans was played by the late stage, film and TV actor Richard Ward.
About Henry
[
]
In his first appearance in the episode "The Family Tree," Henry Evans, James' father, shows up at the Evans' household after he and James haven't seen each other for 35 years. James is having a birthday party and he hasn't seen his father since he was 11 years old, and he is not happy with his father suddenly coming back into his life and tells Florida he doesn't want to see him.
When Henry sees James after Florida persuades him to try to talk to him in their bedroom, he says: "Jimmy! Why, how you have grown!" and James responds: "What do you think? It's been 35 years!" and he angrily asks: "Man, where have you been, Man?"
Henry, who was a Merchant Marine for many of the 35 years he had been estranged from the family, tries to explain to James why he walked out on him and his mother and the rest of the family. He explains that having him being there was just one more mouth to feed, which made it even harder to survive on sharecroppers wages, and he admits he made a mistake by leaving. He also tells James he tried to get in touch with him, but didn't know how, since he had already moved to Chicago by that time. They reconcile and walk out of the bedroom. James tells the family: "You all can finish with your birthday party business. We got company!"
In "The Big Move: Part 1", as the Evans were preparing to move to Mississippi, Henry sent the family a telegram, saying "Good luck on your move. May there always be a place in your heart, and on your sofa for me." unaware that his son had recently been killed in an automobile accident. It is uncertain if Henry attended James's funeral.
In Henry's second visit in "Grandpa's Visit," he arrives at the Evans' household for Thanksgiving with his girlfriend, Lena Anderson (played by Paulene Myers) who affectionately calls him"Tiger." After they met and fell in love, they decided to live together. Florida is shocked when Henry tells her they're not married, and Florida is uncomfortable with the idea of them sleeping in the same bedroom, and they decide to leave. As Henry and Lena wait for their bus, Florida has a change of heart and asks them to join her and the rest of the family for Thanksgiving Dinner, and they do.
In his final visit in "Something Old, Something New," Henry and Lena are engaged, and he has a hard time explaining to Lena that he wants to postpone their wedding, because they would have problems with Social Security, as the U.S. Patent office turned down his latest invention - a food compressor, as he says: "They had two more like it...even the Japanese had one with a built in AM/FM radio!"
On their wedding day, Henry returns to the Evans' household from a nearby bar after having one too many drinks just minutes before the wedding is about to start. Lena tells Henry she's not marrying him for his money and he changes his mind. Afterward, Henry and Lena are married in the Evans' living room.