Florida Evans was played by Esther Rolle.
Personal Information
Gender:
Female
Nationality
American
Ethnicity
African-American
Full name
Florida Evans-Dixon
Hair Color:
Black
Age:
86
Born:
August 4, 1935 in Tuskegee, AL, U.S.
Occupation/
Career:
Housewife
School Bus Driver
Housekeeper
Character
description:
A loving & caring woman
Spouse(s):
James Evans (m. 1952-1976)
Carl Dixon (m. 1977-1978)
Related to:
James Evans Sr. (husband: deceased)
J.J. Evans (son)
Thelma Evans (daughter)
Michael Evans (son)
uncle Wilbert (younger brother)
Raymond Brown (cousin)
Cleatus Jackson (nephew)

Elijah Ray Sanders Nephew unnmaed sister

Hometown
17C at 963 N.Gilbert Ave Housing Projects Chicago
Character information
Appeared on:
Good Times
Episodes appeared in:
109 episodes in Seasons 1–4, 6
Character played by:
Esther Rolle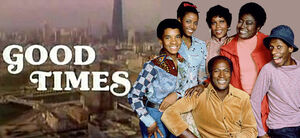 Florida Evans (later Florida Evans-Dixon) is the protogoanist of Good Times in Seasons 1-4 and Season 6. mother of J.J., Thelma, and Michael Evans, and the widow of James Evans and Carl Dixon after the untimely death of James, who died in a automobile accident while preparing his family to move to Mississippi. On Good Times, she appears in 109 of the 133 episodes in Seasons 1 through 4 and then returns in Season 6 after Carl died of lung cancer at the end of Season 4, in the episode "Love Has a Spot on His Lung: Part 2", the season finale.
She never had the chance to finish high school, because she wanted to help support her parents and she started working minimum wage jobs. As a young adult, she met her childhood sweetheart and the love of her life, James Evans, Sr., and eventually married him. They used to live in the South Side of Chicago in a cold water flat where they had their two oldest children, James "J.J." Evans, Jr. and Thelma. When Florida was pregnant with their third child, Michael, they moved to the North Side of Chicago in the Housing Projects.
As a stay-at-home mother, she's the super-glue that keeps the family together. With her stern, but loving disposition, Florida does her best to to give her often unemployed husband emotional support and be a good mother and role model for their three children. Between the cooking, cleaning, laundry, and shopping, Florida often squeezes in a part-time job to help stretch the family dollar, and she even returned to school to get her high school diploma. Despite their many financial issues, Florida is the quintessential hostess and is possessed of a generous spirit. She is known to throw a good party, and doesn't hesitate to offer whatever she has to those in need. Not only is Florida the superwoman of the Evans household, but for many - including her good friend and neighbor, Willona - she's the superhero of her housing project on the North Side of Chicago.
Her husband, James fought to get his family out of the ghetto, and he almost succeeded when he left Chicago to find a better job in his home State of Mississippi, and his family was scheduled to move to Mississippi with him, but while in Mississippi, James was killed in a car accident. Devastated, the now-widowed Florida had to support herself and their three children alone.
Trivia
[
]
Esther Rolle's departure from the show during the 1977–1978 season, the reason why she left was because she was unhappy that the success of Jimmie Walker's character J.J. Evans took the show in what she thought was a frivolous direction.
Rolle quit when her contract concluded. Although the series continued without her for the fifth season, she returned to reprise her role as Florida in the show's final season, with the explanation that the shop owner whom she wed at the end of Season 4, Carl Dixon (played by Moses Gunn), whom she had moved to Arizona with upon their honeymoon, had succumbed to his struggle with cancer, with her then deciding to return to Chicago.
Rolle's most memorable moment from the show is in the episode "The Big Move: Part 2" at the start of Season 4, when she scream out "DAMN DAMN DAMN!" when her character Florida finally accepts the fact that James, who had died in an auto accident while preparing to move the family to Mississippi, is really gone.
Rolle and Ja'net DuBois were supposed to be the same age on the show, even though Rolle was 25 years older than DuBois. Florida Evans, known as Esther Rolle, was pronounced dead on November 17, 1998; 9 days after her 72th, Birthday.