Edward Crawford in an episode of the NBC sitcom "Sanford and Son".
Personal Information
Gender:
Male
Birth name:
Edward Hines Crawford
Born:
Birthplace:
Los Angeles, California, U.S.
Career/Family Information
Occupation/
Career:
Former child actor
Years active:
1968-1977
Character information
Appeared on:
Good Times
Character played:
"The Kid" / Kid in "Cousin Cleatus" and "J.J.'s Fiancée: Part 2" (Season 3)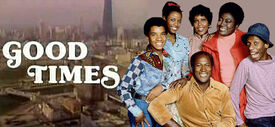 Edward Crawford (born November 25, 1962) appeared twice on Good Times, first appearing in the episode titled "Cousin Cleatus", then in the episode "J.J.'s Fiancée: Part 2". A former child actor of the 1970s, Edward appeared in guest roles on several popular TV series, which included a recurring role as Roger Lawson on the NBC-TV sitcom Sanford and Son, Bonanza ,Julia, and Emergency. Edward, who also appeared in the 1973 blaxploitation flick Cleopatra Jones, made his Hollywood acting debut in the 1968-69 TV series Felony Squad.
External links
Edit