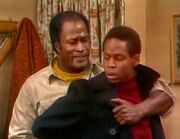 Cousin Cleatus, who had just robbed a bank, threatens to keep Michael, who he was trying to hold as "ransom", hostage to secure his getaway while hiding out at the Evans' apartment in "Cousin Cleatus" in Season 3.
Personal Information
Gender:
Male
Occupation/
Career:
Former activist, Black Falcons group, turned criminal
Character
description:
Part of a radical activist group who resorted to robbing a nearby bank with a group of criminals
Related to:
Florida Evans (aunt)
James Evans Sr. (uncle in-law)
J.J. Evans (cousin)
Thelma Evans-Anderson (cousin)
Michael Evans (cousin)
Character information
Appeared on:
Good Times
Episodes appeared in:
"Cousin Cleatus" in Season 3
Character played by:
Jack Baker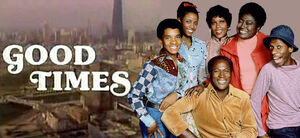 Cleatus Jackson is Florida's nephew. He appeared in the Season 3 episode of Good Times titled "Cousin Cleatus". The part of Cleatus was played in the episode by Jack Baker; he was credited as John Anthony Bailey.
About Cleatus
Edit
In his lone appearance in the episode "Cousin Cleatus", Cleatus, who's Florida's nephew, appears shortly after The Evans' get a visit from the FBI asking about him. Turns out he is wanted for a recent bank robbery committed days earlier in Atlanta. Cleatus, in his attempt to go on the lam from the police, makes the mistake of trying to use Michael hostage as ransom for a possible clean getaway by holding him at gunpoint, James is able to trap him from leaving the apartment and subdue him by getting the lights to go out by turning on the TV, which had kept knocking out the fuse, retrieving Cleatus' gun in the process.
When Florida, who's bewildered at the notion of her nephew, who she said was "such a good boy" growing up, asks why he resorted to choosing the path that he chose as a grown up, he says "Do you know what it's like out there, Aunt Florida? I mean, scratching and scrounging for er'ry little penny... I mean...what'cha gotta do to make it out here today!?" James sarcastically responds "Damn if we know, You see, son, we're so rich, we don't know...We've been sittin' up here in this great big penthouse on Lakeshore Drive, and all we do all day is eat caviar, and counting our stocks and bonds!", as he then smacks him on the head and continues "What the hell we know about being poor!",
The FBI agents who were looking for him, Monroe and Reardon, whose wheels on their car had been stolen, both, return  from trying to flag a taxicab unsuccessfully, and right into a subdued Cleatus, as they then, after calling their field office for transportation, to take him into custody.