Carl Dixon, played by Moses Gunn
Personal Information
Gender:
Male
Occupation/
Career:
Habadashary shop owner
Character
description:
Staunch Atheist who hires Micheal, who also briefly contemplates becoming an atheist in his shop
Meets Florida, whom he hits it off with in spite of their religious differences, as they begin dating to wed before the move to Arizona for his health before he succumbs to lung cancer
Spouse(s):
Florida Evans, 1977-1978, his death
Related to:
J.J. Evans (stepson)
Michael Evans (stepson)
Thelma Evans (stepdaughter)
Character information
Appeared on:
Good Times
Episodes appeared in:
6 episodes in Season 4
Character played by:
Moses Gunn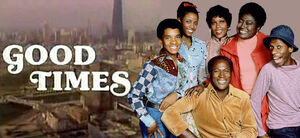 Carl Dixon appears in six episodes of Good Times during the fourth season. The part of Carl is played by Moses Gunn.
About Carl
Edit
In his first appearance in the episode titled "A Stormy Relationship", Carl hires Michael, who was looking for a summer job; he soon has a strong effect on Michael, who proclaims to the family that he's contemplating becoming an atheist himself.
When he drops by the apartment with Michael to meet the family, Florida talks to him about the issue of Michael's non-religious conversion, and in spite their religious differences, Carl and Florida find that they have a sort of attraction to one another, as they soon begin dating, and, by the time of the episode "Florida and Carl", they go out on their first date, as Carl becomes outraged at the service of the restaurant, and walks out on the date, after he pays the bill.
He then later apologizes to Florida, as they continue dating. In the episode "My Son, the Father", Michael, who's looking for someone to attend a father/son dinner with, winds up asking Carl, instead of J.J., who expected Michael to ask him.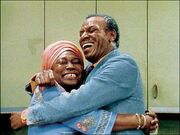 By the time of the first of his final two episode appearances in "Love Has a Spot on His Lung: Part 1" Carl and Florida get engaged, as Carl, afraid to tell Florida that he is battling lung cancer, which he was recently diagnosed with, abruptly breaks off the engagement. J.J. later finds him in a nearby bar, drinking his problems away, as he is scared to tell Florida of his recent diagnosis of lung cancer, as J.J., who, like the rest of the family, doesn't know of his illness, tries to help him to go on with his engagement with Florida.
After a confidential pep talk from Bookman, who was enlisted by his doctor, who had treated him for the same thing five years earlier before it went into remission, Carl again asks Florida for her hand in marriage in the second episode of the are "Love Has a Spot on His Lung: Part 2" as Season 4 closes.
The two marry off-screen and move to Arizona. Florida returns at the beginning of Season 6 in the episode "Florida's Homecoming: Part 1", without Carl, for Thelma's wedding. Carl, who has succumbed to the lung cancer, is referenced briefly in Season 6 but he is never mentioned again (Florida continues to use the surname Evans instead of Dixon).