Bob LaHendro directed 3 episodes of "Good Times"

Personal Information
Born:
1934
Birthplace:
North Hills, California, U.S.
Career information
Occupation/
Career:
Director/Crew Member and creative consultant
Years active:
1966–1988
Series involved with:
Good Times
Job on series
Directed 3 episodes in Season 1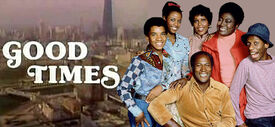 Bob LaHendro (born 1934) directed three episodes of Good Times; first, the series pilot episode "Too Old Blues", "Black Jesus", and then "God's Business is Good Business".
Career
An Emmy Award Nominated director, Bob has directed over 250 comedy and dramatic TV episodes which included You Can't Take It With You, She's the Sheriff, All in the Family of which he has directed 44 episodes, some co-directed with John Rich, and its spinoff series, Archie Bunker's Place, as well as ABC-TV's Welcome Back Kotter, That's My Mama, Fish, the short lived sitcom Hot'L Baltimore and numerous other TV series pilots.
Bob, who got his start in Hollywood as a creative consultant on NBC-TV's Danny Kaye Show in 1966, has also directed 13 episodes of the NBC-TV daytime soap opera Santa Barbara. In 1972, Bob won the Directors Gould of America award for Outstanding Directorial Achievement in Comedy Series for his work on All in the Family during its second season. The next year, 1973, he won a Primetime Emmy for the same category for his directorial work on All in the Family in the episode "The Bunkers and the Swingers" in Season 3 of the series.
External links