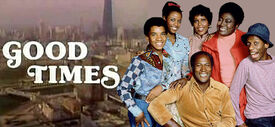 Bebe Drake (sometimes credited as Bebe Drake-Hooks or Bebe Drake-Massey; born May 31, 1954) made three guest appearances on Good Times; first, as Savannah Jones, the girlfriend of Marion "Sweet Daddy" Williams in the Season 2 episode "Sweet Daddy Williams", then as Mrs. Baker, the mother of Larry Baker, one of the students who rides on the school bus which Florida Evans drives, whom Florida also suspects has a hearing problem in the Season 6 story arc, the episodes titled "Florida's Favorite Passenger: Part 1" and "Florida's Favorite Passenger: Part 2".
A veteran TV/film character actress, Bebe has made numerous guest TV show appearances dating back to the mid 1970's, which include appearances on such shows as Welcome Back Kotter. The Wayans Bros., The Jeffersons, What's Happening Now, A Different World, The Steve Harvey Show. and recurring roles on Martin (as Myra), and A Different World (as Velma Gaines).
Bebe's many film appearances include Which Way Is Up? (1977) and Jo Jo Dancer, Your Life Is Calling (1986) with film star Richard Pryor, How To Be A Player (1997), Space Jam (1996) Boomerang (1992), the animanted Bebe's Kids (1992, as the voice of Barfly), House Party and Ailen Nation. [1]
References
[
]
External links
[
]